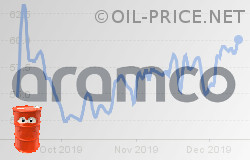 Oil giant Saudi Aramco's IPO had been in the offing for quite some time. What did cause the delay? We take a detailed look.
STEVE AUSTIN
|
2019/12/18
---
Whatever it is, you wouldn't want to be the oil minister of Saudi Arabia. Forget the exciting remuneration, you'll have to have thick skin, extraordinarily embittered at that, to wade over the thankless challenges. For one, the Kingdom shows all signs of nervousness. Over that, September's drone strikes on Saudi oil facilities wiped out half of the nation's oil production for over a month. And now with Aramco public, one naturally wonders, will half of Aramco's valuation be wiped out as well when (not if) drones strike again? Tough question to answer, if you're the oil minister. Tough questions are why Saudi Arabia has had three oil ministers in the past three years.
Prince Abdulaziz bin Salman, the latest energy minister is the son of the Saudi King and the half-brother of Prince Mohammad bin Salman. The appointment gains significance since this is the first time that a member of the Al Saud family gets to head the energy ministry. In spite of his past experience, the real reason for his elevation, however, will remain a mystery as this sort of announcement happens by decree. Indeed shows the extent of Saudi PR goodness, still middle-aged style. On that note, to what extent is this elevation tied to the much hyped Saudi Aramco IPO? We'll explore the reasons along with a detailed analysis of Aramco's IPO.
The need for $80 oil
Back in September, terrorists set ablaze two Saudi oil plants, including one of the world's largest crude oil processing facility, with a drone strike. Even as it continues to ravage Yemen with bombs and pushing Yemenis to scamper for a meal a day, Saudi Arabia always believed it far superior to other countries. Attacks on its own soil? You've got to be kidding. Doesn't Saudi Arabia, apart from a tight air defense, have a special armor over its skies? Well, it's been proved otherwise.
In the immediate aftermath, the prices jumped guns as the attack on the heart of Saudi oil infrastructure wiped off 5.7% of global oil supplies. Volatility let Brent crude oil soar almost 20% during trading to reach $69 (and 71.95 a barrel in Asia), in the biggest one-day jump in over thirty years before falling to $68.
The upward trend was followed by gasoline futures too. Subsequently, President Donald Trump pledged the release of oil from the Strategic Petroleum Reserve followed along similar lines by President Putin. Brent then stabilized to $60 per barrel and WTI closed at $54.85 on Friday, and it seemed like the worst was over. In fact, supply of oil was never really a concern but markets have their own logic. And by Monday, the sorcery was back at play as oil prices spiked yet again with Brent moving back to $69. The roller coaster ride continued as Brent dropped by 4.47 % the very next day.
In fact, we'd like to reiterate that global supply of oil is healthy and should reflect in the oil prices soon enough, provided there's no additional tension in the Middle-East. Remember, before the attacks the well-spun theories were all about the ways and measures to sponge off the excess oil from the supply chain. How things can change in a matter of seconds! Well, crude is extremely sensitive to uncertainties. Any geopolitical tension in any oil producing nation will create panic. So, the consequence of the attack is quite understandable. The present vagaries in oil prices will subside as Saudi Arabia, it has to be said, is quite capable of restoring whatever has been wiped off. The question is, would it? The present energy minister, if you must, played a significant role in hammering out the agreement between non-OPEC and OPEC countries to cut crude oil supplies to boost prices. In fact, Saudi Arabia has been adding less than its OPEC output quota of 10 million barrels per day to the global oil supplies.
The 'why' constitutes a study in itself: Saudi Arabia is in dire need of oil at or above $85 to balance budget because of its unproductive workforce. Oil wealth helped sustain an enviable lifestyle for all Saudis equipping them with unprecedented spending power. The military spending and welfare programs rolled on fine till Shale oil in the US threatened the status quo.
Then came the massive push at economic diversification helmed by the new kid on the block, Prince Mohammad bin Salman. Prince Salman announced various policies and schemes in 'Vision 2030', an ambitious reshaping plan to make his Kingdom less reliant on oil revenues. The Aramco IPO is aimed at raising money for this diversification. A new ministry for Industry and Mineral resources was carved out of the Energy Ministry recently as part of this diversification. In many ways, the appointment of a new oil minister is also inclusive of the diversification plan. Saudi Arabia needs high oil prices before listing Aramco's IPO. The only time oil breached the $75 a barrel mark was in October last year. Though better than the $26 per barrel crash in 2016, there's still a long road to $85 a barrel. So, the kingdom needs a diverse and balanced budget to lure investors to Saudi Aramco, IPO. You get the point, don't you?
Earlier we had posed the question of whether Saudi Arabia would try and restore the supply outrages caused by the twin attacks. As we said earlier, the Kingdom needs high oil prices for its very survival. Well, when you consider how the attacks can perpetuate a rise in geopolitical risk premium over security concerns in the oil market, it's in the interest of Saudi Aramco to have stability in the region. In our estimate, at least 2 million barrels per day were restored within weeks. Also, with the economic slowdown the demand is low while the supply is healthy.
Saudi Arabia is in a delicate position right now. It needs oil above $80 a barrel but not at its expense. An oil price hike due to attacks on its own soil is, in fact, damaging for Saudi Aramco's flotation. When risk factors increase, investors tend to back out. After all, if Saudi Arabia can't guard its own territory, how safe are its assets- how safe will they be in the future? The September attacks have exposed the vulnerable underbelly of Saudi Arabia. Even as the prices fallback, any retaliatory attacks by Saudi Arabia or US will spike the oil prices in no time.
Mind, the situation is dangerous as it is deadly. The conflict with Houthi rebels in Yemen was started by Prince Mohammad in 2015 itself but the situation has escalated with renewed intensity in recent times. The rebels, said to be backed by Iran, have shown remarkable growth in precision strikes with rocket and drone attacks. From targeting pipelines to oil fields, the militants are covering all bases. There are plenty or voices asking Saudi Arabai to retaliate. However, continued conflicts, while increasing prices, will lower the valuation of Aramco.
The Saudi Aramco IPO - a bumpy start
Saudi Arabian Oil Co., or Saudi Aramco, as we know it, is 'the' pride of Saudi Arabia. Netting revenues of more than a billion dollars a day, would it have been any other way? Saudi Aramco, for the unushered, not only explores for, digs and produces oil but also refines the crude products and sells them in the global market. Anything associated with oil and you can bet Aramco is there. In spite of consistently sluggish oil prices, Aramco netted a profit of 46.9 billion in the first half of this year.
So the IPO of Aramco was always going to be an edgy headline snatcher. Touted for years to be the biggest ever, Saudi Aramco's initial public offering was supposed to have two parts: First, sale in the local exchange. Two and last, a grand international listing to rival all. The second plan has yet to take off. As you know, the IPO was originally slated for 2017 but it's been a looming tale of excuses and delays. The listing was put on hold last year as the company focused on acquiring stakes in Saudi Basic Industries Corporation (SABIC). When Aramco acquired a 70% majority stake in SABIC for $69 billion, Aramco's public offering efforts were re-launched with many changes that have gobbled time.
As per Saudi estimates, the company valuation soared to $1.88 trillion based on the post-IPO float currently at $25 billion in Riyadh. Even if the valuation, in reality, is $1.5 trillion it is still colossally rich. According to Vision 2030, five percent of Aramco is up for grabs. As per earlier schedule, Aramco was to sell one percent this year, one percent in 2020 and the rest later on. Now, that is not going to happen but there are other signs of progress. To ramp up confidence, the state owned company has announced various steps to distance itself from the government as well as the ruling family. There're solid reasons for the measures: For decades Saudi prices, in thousands, have been plundering the Saudi Aramco to finance their lavish lifestyle. You see, none of them had any accountability (or accounting for that matter). Harnessing the state owned company was a cakewalk. But once public, a company needs to be transparent with its shareholders. If not, it'd constitute financial fraud. Much of the profit of Aramco goes into the pockets of the monarchy.
No wonder that, notwithstanding the tempting valuation, no reputable market wanted to host the partial public sale of Saudi Arambco. Meanwhile, the oil price hike after the attacks has actually undermined the IPO of Aramco. Even if five percent of the world's oil supply is restored and all contracted supplies to customers met, a higher risk premium at present makes the delay inevitable. As a result, the IPO kind of fell flat at just $25 billion, with most buyers being Saudi nationals and the Saudi state itself picking up $2 billions worth of shares which foreign investors cautiously avoided.
Saudis seeked most opaque open market
Last month, the board of Saudi Aramco announced of not listing itself on the New York exchange because of many "legal risks" and strict regulations, and picked Riyadh instead. New York exchange was supposedly the favorite of Crown Prince MMS for the IPO last year before delays thwarted the launch. Would you believe that Aramco's birth in the 30s of the last century was a Saudi- US affair? The billions of dollars Armco is striving to raise will be, quite frankly, difficult in other exchanges. Yet, what gives? Transparency, of course. Aramco is the world's most profitable company but much of Aramco's profit disappears down the throat of the royal family. Naturally without some sort of immunity from legal action, the board will be wary of a US listing.
The USA is such a dynamic and powerful economy because businesses trust each other compared to other places. The trust exists because there are dire consequences (fines) when fraud occurs. It may seem paradoxical but it is thanks in no small part to implacable regulations that businesses prosper so much though exchanges in the US. Investors expect a public company's quarterly reports to be truthful.
In addition, the Saudis are already exposed since the US government allowed US citizens to sue Saudi Arabia for its role in the 9/11 attacks. The Justice against Sponsors of Terrorism Act and a proposed legislation, NOPEC increase the legal risks. A multi-billion state-owned Saudi company would be a primary target for this sort of lawsuit. Further, even oil companies in the US are facing many lawsuits for accelerating climate change and Aramco will have few to fight as well.
This is exactly not the kind of market where Saudis want to list Aramco. Rather they had been looking elsewhere with less exposure: Honk Kong, Tokyo or London, markets with a history of money laundering. For their part, not only Hong Kong, Tokyo and London but even Singapore and Toronto have been feverishly pitching to host Aramco's IPO. For now, Riyadh will have to do with its premium listing for state-owned companies.
Plagued by repeated delays, the firm has just started afresh with new bankers and Yasir al-Rumayyan as the chairman. The September attacks were the biggest road block faced by Aramco in listing its shares so far. Though the chairman of Saudi Aramco has emphasized that the attacks would not slow down the preparations for the share sale, the level of premia and the risks have only increased and Aramco will, no doubt, had to re-evaluate a lot of things. Thus the IPO was delayed all the way to December.
Some transparency in numbers
One takeaway of Aramco filing IPO application is that Saudis are publishing some actual numbers, otherwise kept secret. Finally, the financial results are there for everyone to see, a major departure for the energy giant. We know that the profits of the company surpass the combined profits of big guns like Apple, Royal Dutch Shell and even ExxonMobil. Indeed, about $35.5 billion more than the second most profitably listed company, Apple. The planned listing, even when valued at $1.5 trillion is bigger than the GDP of many big countries in the world.
In real terms, we chewed the actual numbers only in April as the company published its annual financial statements in a bid to raise funds in the market. This is a marked departure as for decades we've had to rely on speculations, rumors, reading between the lines and the words of Aramco officials to go by. In typical Saudi mode, when they said their earnings and cash flows were the best in the world, we had to nod in agreement. At present, with the release of an independent audit last January and half year financial results more recently, we know that Aramco's oil reserves are at 260 billion barrels and earnings before interest and tax at a massive $92.5 billion. At the same time, with the formal data, we can also crunch the numbers to make our own calculations like how low efficiency in day to day operations makes the firm desperately dependent on oil prices above $50 a dollar.
For instance, Aramco trumps on having the 'most productive reservoirs' but funds from operations were $26/barrel much lower than Shell and others denoting low productivity. From mere conjecture, we can also confirm that since Aramco is state controlled the heavy royalties and taxes can only go into the briefcase of the ruling family. Also, when crude prices averaged $45 a barrel in 2016, Aramco was in a desperate mode with income lagging at $13 billion. When prices increased in 2018, the income grew to $111 billion. Saudi Arabia had to abandon its war on US shale oil as the low oil prices were hurting closer home. The budget deficits were eating into the cash reserves.
Anyway, will the transparency benefit the Saudis? On the street, the sentiments are rather nuanced. The people of Saudi Arabia are under no illusion and support the IPO of Aramco because they are quite aware of where huge chucks of Armaco's profit disappear to. That they don't protest is down to draconian laws and handsome welfare measures of the state. A transparent financial statement will be a welcome measure as it would help them determine their due share of the profit. Who doesn't want more?
From the financial statements we know two things for certain: First, Saudi Arabia will never let oil slide below $48. Second, they say they are producing 10 million barrels a day but the figures are inflated by a million.
Conclusion
The tensions in the Persian Gulf are real. That said, the supply side of oil is healthy and Saudi Arabia will be able to restore capacity faster than expected. Exports from the Kingdom will not be affected as Aramco has generous spare capacity if needed. Of course, more attacks can quickly derail the supply and push the oil prices above the $80 mark in no time.
As for Aramco's global IPO, even if Saudi Arabia doesn't retaliate, the IPO of Aramco was not listed as planned at all. Saudi Arabia scrambled to re-evaluate and assess the situation before selling a stake of its crown jewel. In case, Crown Prince Mohammad defied logic and went on with the sale as early as possible, and so the valuation of the oil company ended up a lot less than the $2 trillion he expected as foreign investors turned away.
Our word: If you are an investor, betting on Aramco seems worth considering as the company has consistently maintained profits and is expanding with more assets added every year. But don't let rosy numbers fool you: over 80% of profits are taxed; an untenable burden for any public company. Moreover a few weeks ago 10 makeshift drones from neighboring Yemen were able to paralyze Aramco for weeks. This is likely to happen again. When it does, the leverage effect on total valudation of Aramco (due to the relatively small trading float) will be equally devastating.
---
Learn from our Research
We share professional crude oil price intelligence, research and insights.
Unsubscribe at any time. 60,000+ people are now receiving our research.